Join us for the 2023 Spring Art Crawl!
---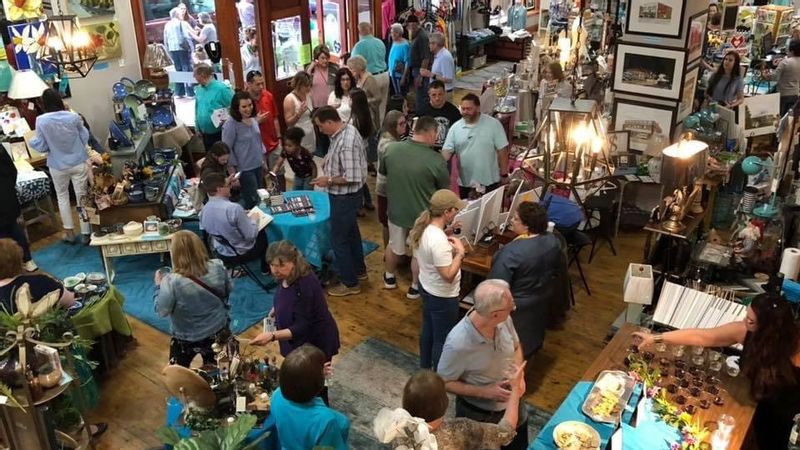 gg's Hosts Multiple Artists
You won't want to miss the Spring Art Crawl Friday, March 31, 2023 from 5:30 - 8:30 pm! Art Crawl showcases artists in different shops, restaurants, and businesses scattered throughout the heart of Downtown Statesville. We are proud to host multiple artists here at gg's! Meet the artists and authors behind the works being featured.
Dr. Richard Falls
This retired Statesville optometrist is debuting his first book "Which is better #1 or #2?" Dr. Falls would be happy to sign a copy for you!
Denise Cascardi from Purple Owl Glass
Everyone has a story...here's mine. It's been a journey to get to this place in my life. I've always been creative and loved making jewelry (and a million other things) but most of my adult life was spent on my career and in my spare time enjoying life with my husband Drew. We decided to move to NC in 2005 to join the rest of my family. We settled and couldn't have been happier. A few weeks before my 50th birthday, I lost the love of my life - it was devastating. It changed me - everything changed and now almost 3 years later, Purple Owl Glass is born. Here I am doing what I love instead of what I spent all that time just doing.
Eli and Fergie Abbott
Eli Abbott and his service dog, Fergie, are Statesville natives! Come check out his stickers and other artwork!
Halen Holden
Halen will be here to showcase her hand-decorated seashells. All proceeds will go to The Sound to Sea program, the only residential environmental education program on the Outer Banks. Donations will be made in honor of Halen's teacher and fourth-grade class at Davidson Day School.
Oakwood Bread Company
We will also be hosting the Oakwood Bready Company, so don't forget to stop in and grab some of their delicious baked goods!